-- FEBRUARY 11 - 14, 2016 --
New for 2016
Our partner the Saskatchewan Horse Federation is excited to present an educational program to compliment the events of the 2016 Equine Expo. Focusing on youth, there will be something for everyone. Whether you are a beginner horse owner, a want to be owner, or an already converted horse enthusiast, the educational booth will have something that is sure to be of interest.
Interactive displays and demonstrations on topics of interest will run throughout the Expo. Come and learn more about the breeds, and then go to see the live action and cheer on your favourite at the evening performance of the Battle of the Breeds. Learn about saddles, correctly fitting tack, blankets and harness, or practice bandaging a leg. Check out the basics for feeding and health care of your equine partner.
For something a little different, test your knowledge with our "Horse Bits" trivia challenge.
Whether you choose to learn from clinicians or farriers, riders or coaches, you will be entertained and amazed by the wide world of the horse.
THE EXPO
Saskatoon Prairieland Park and volunteers from Saskatchewan Horse Federation, the Western College of Veterinary Medicine and various equine breed groups work together to facilitate this 5th annual Saskatchewan Equine Expo.  The objective is to present equine related lectures, presentations, demonstrations, entertainment and opportunities focusing on the Equine Industry.  Whether participants and spectators are amateurs or professionals, they will experience the newest products, techniques and technology.
THE
EVENTS
The four day Equine Expo in February 2016 will offer:
» Trainer Challenge - click here for 2016 Clinicians
» WCVM Seminars & Demonstrations
» New twist to the Trainer Challenge in 2016 - click here for more info
THE
TRADESHOW
The four day Industry Trade Show in February 2016 will offer:
» Trade show featuring equine suppliers, western art, home decor, breed associations, clubs.
» The opportunity to network with fellow horse enthusiasts
» TRADE SHOW INFORMATION
» TRADE SHOW APPLICATION
THE
CLINICS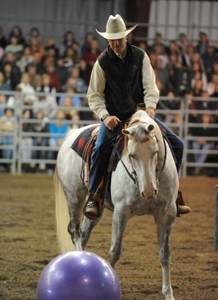 » Jonathan Field
» Connie Dorsch Hunter/Jumper Clinic
» Lyn Ringrose Moe Cowboy Dressage Clinic
EQUINE
EXTRAVAGANZA
» Equine Extravaganza on Friday evening AND Saturday evening - Additional location with live video - Battle of the Breeds and Hunter Jumper demonstrations and Cowboy Dressage Musical Freestyle demo.
» Battle Of The Breeds Registration Form
» Battle Of The Breeds Prize List
THE NEED
Within the Saskatchewan horse industry a need exists for a quality event that will showcase the newest technological advances, the latest developments in equine health, and a demonstration of horsemanship excellence that is equally entertaining and educational.
Saskatchewan Equine Expo will celebrate the diversity of the equine industry with the live demonstrations, breeds on display, and events featuring outstanding horsemen and women.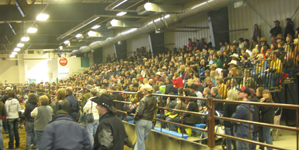 THE AUDIENCE
Whether participants are amateurs or professionals, long-time horse owners or someone wanting to purchase their first horse, they will experience the newest products, best techniques and latest technology. The event will also attract trainers, coaches, veterinarians, and people that support the equine industry with a wide range of products and services.
2015 Results
Trainer Challenge winner – Cain Quam
Open Cow Horse Event:
1st - Susan Schall, Calgary AB, riding Genuine Brown Gal
2nd – Dale Clearwater, Hanley SK, riding Lena in the Starlight
3rd – Rod Thiessen, Estevan SK, riding Chexboonsmal
Non-Pro Cow Horse Event:
1st – Susan Schall, Calgary AB, riding Chics Ruffled Up
2nd – Ian Hryhirchuk, Irma AB, riding Sign of Hail
3rd – Ron Farrow, Dalmeny SK, riding Smokin Frizz
Battle of the Breeds (revised placings):
1st – Team Quarter Horse
2nd- Team Arabian
3rd – Team Thoroughbred
News Releases
Tuesday, February 17, 2015 - Record crowds attend the fourth annual Saskatchewan Equine Expo in Saskatoon [...read more]