 -- FEBRUARY 14 - 16, 2014 --
News Release:
February 19, 2013 - Record crowds attend the second annual Saskatchewan Equine Expo in Saskatoon ... [ read more ]
February 11, 2013 - EQUINE INDUSTRY WEEKEND AT PRAIRIELAND PARK ... [ read more ]
RESULTS
Congratulations to Dale Clearwater – winner of 2013 Trainer Challenge for second time.  A full house at the Ag Centre watched as Dale managed to secure his Champion title for year two of the Trainer Challenge.  This was the first of this type of competition for the other two trainers and they both had a great finishing round.
Canada's Ultimate Cowhorse Event was a huge success, after some recalculating the placings were as follows:
1st place – John Swales from Millarville, AB payout of  $6000
2nd place – Brad Pedersen from Lacombe, AB payout of $3000
3rd place – Suzon Schaal from Calgary, AB payout of $2050
4th place – Rod Thiessen from Estevan, SK payout of $1650
Apologies from the organizing committee as the totals were recalculated designating John Swales the Champion.  Thank you to all the entries for their understanding and especially to Brad Pedersen and John Swales for the gentlemen they are.
THE EXPO
Saskatoon Prairieland Park and volunteers from Saskatchewan Horse Federation, the Western College of Veterinary Medicine and various equine breed groups work together to facilitate this three-day 3rd annual Saskatchewan Equine Expo.  The objective is to present equine related lectures, presentations, demonstrations, entertainment and opportunities focusing on the Equine Industry.  Whether participants and spectators are amateurs or professionals, they will experience the newest products, techniques and technology.
THE
EVENTS
The three-day Equine Expo in February 2014 will offer:
» Trainer Challenge - Trainer #1 is Dale Clearwater back to defend his championship, Trainer #2 is Doug Mills from Kamloops, BC and Trainer #3 Lachlan Bell from Cochrane, AB.
» Canada's Ultimate Cow Horse Competition - Click here for registration form
» Vaulting Demonstration
» WCVM Seminars & Demonstrations
» WCVM Veterinary Medical Tour - click here for registration form
» EVENTS SCHEDULE- coming soon
THE
TRADESHOW
The three-day Industry Trade Show in February 2014 will offer:
» Trade show featuring equine suppliers, western art, home decor, breed associations, clubs.
» The opportunity to network with fellow horse enthusiasts
» TRADE SHOW EXHIBITOR INFORMATION
THE
CLINICS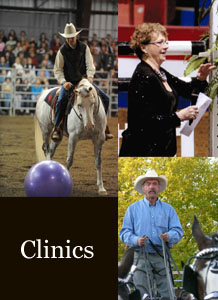 Jonathan Field – Horsemanship clinic
Harvey Macfarlane – Harnessing clinics
Connie Dorsch - Hunter/Jumper Clinics

EQUINE
EXTRAVAGANZA
» Equine Extravaganza on Friday evening AND Saturday evening - Additional location with live video - includes Canada's Ultimate Cow Horse Competition Fence Work component,
Battle of the Breeds, Eight Horse Hitch Demo.
» Demonstrations
» Battle Of The Breeds Registration
» Battle Of The Breeds Prize List
THE NEED
Within the Saskatchewan horse industry a need exists for a quality event that will showcase the newest technological advances, the latest developments in equine health, and a demonstration of horsemanship excellence that is equally entertaining and educational.
Saskatchewan Equine Expo will celebrate the diversity of the equine industry with the live demonstrations, breeds on display, and events featuring outstanding horsemen and women.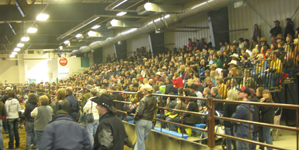 THE AUDIENCE
Whether participants are amateurs or professionals, long-time horse owners or someone wanting to purchase their first horse, they will experience the newest products, best techniques and latest technology. The event will also attract trainers, coaches, veterinarians, and people that support the equine industry with a wide range of products and services.